Your Country Needs You!
We brought in a professional theatre company to tell the story of what it was like at the front during WW1 in a way which would engage the children. Quantum Theatre played at two primary schools, and other local schools were invited to each performance. Some 210 children and adults enjoyed the performances. Staff and children found it very powerful and moving, as well as being educational and informative.
Below, Luke Griffiths from Lydiate Primary says what he thought of the performance.
Quantum Theatre Company performing at Lydiate Primary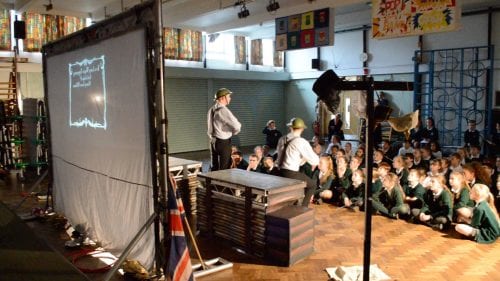 Your Country Needs You! by Luke Griffiths
I thoroughly enjoyed the Quantum Production on Monday 12th November. I was very interested in what how the actors were going to try and show the First World War with only two of them. They were very good at describing the terrible conditions the soldiers must have lived in and I felt very sorry for them. It made me think about how scary it must have been.